AKIMBO Dance & Movement Art Festival (2012-2016)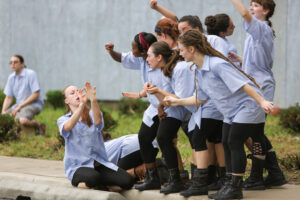 AKIMBO is a site-specific dance and movement art festival in Station North Arts & Entertainment District, Baltimore City, MD. Programs showcase professional artists, engage audiences in accessible and interactive dance events, and support the growing arts community in Station North, Baltimore.Comprised of the AKIMBO Artwalk, Teaser, & Spree, AKIMBO features 15+ professional dance companies and movement artists from traditional to experimental, plus music, spoken word, art installation, puppet, multi-media, performance art, and more. Over 150 artists perform in AKIMBO for ~800 audience members each year.
During AKIMBO Artwalk, the main event, artists present work in art galleries, restaurants, bridges, parks, murals, and businesses. Artwork speaks to the architecture, history, and/or theme of the locations. At their own pace, audiences explore the neighborhoods rich architecture while participating in live art. Over 50 volunteers in yellow shirts guide audiences along the way.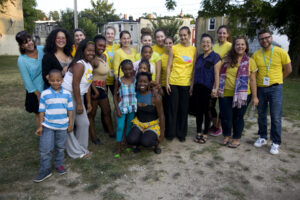 AKIMBO is a project of Deep Vision Dance Company, under the direction of co-founders Nicole Martinell, dancer and choreographer, and Sidney Pink, local artist and curator. Funders have included Robert W. Deutsch Foundation; William G. Baker, Jr. Memorial Fund, creator of the Baker Artist Awards; Maryland State Arts Council; The Citizens of Baltimore County; Towson University Department of Dance; University of Maryland Baltimore County; Single Carrot; Theatre, Ynot Lot; T. Rowe Price; Station North Arts & Entertainment District; "Think Big," Ourtown Grant, National Endowment for the Arts; Quality of Life Giving Circle; and individual donors.