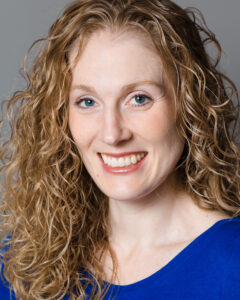 Nicole A. Martinell, MFA, CMA is a choreographer, dance and somatic educator, and performer, thriving in Baltimore since 2008. Her passion for teaching is coupled with her love for learning. Curiosity and laughter open the door for self-discovery and growth.
Martinell is the Founder/Artistic Director of Deep Vision Dance Company – a vehicle for her choreographic and outreach endeavors. Described as "absolutely breathtaking to behold" (DC Metro Theatre Arts), Martinell's choreography reveals the complexity of humankind and uncovers the strange beauty of the world around us. Ranging from grand site works to intimate performance spaces, her choreography features collaborations with movers, visual and literary artists, musicians, scientists, historical buildings, and 10ft sculptures. Choreographic honors include a recipient of Maryland's Baker Artist Awards; selection for the Annual Choreographers' Showcase (MD), DC Capital Fringe Festival (DC), Exchange Choreography Festival (OK), Intersections Festival (DC), New Release Choreographers Showcase (DC), American College Dance Association Galas (VA, MD), Artscape (MD), and ECOPOETIC (NY); and multi-city tours of numerous works.
Martinell's notable community projects include "Learning Physics through Movement," a K-12 arts integration program; By/4 Artist professional development series; Community Improvisation Jams; and youth Choreographic Mentorship. Martinell and Sidney Pink co-founded the AKIMBO Dance & Movement Art Festival in Baltimore's Station North Arts & Entertainment District. Running for 5 years, this site-specific festival featured over 100 artists performing site-based works at galleries, restaurants, bridges, and grassy knolls. Deep Vision has received 22 grants since its inception in 2011.
Following her early training at Johnstown Concert Ballet, Allegheny Ballet Company, and the Fordham/Ailey Program, Martinell pursed her passion for dance science and somatics. She received a BS in Kinesiology and minor in Dance from Pennsylvania State University and an MFA in Dance from Texas Woman's University. She earned her Laban/Bartenieff Movement Analysis certification from the Laban Institute of Movement Studies, and she became an AmSAT-Certified Teacher of the Alexander Technique through the AT MidAtlanic Training Program.
Martinell's research on biomechanics and ballet pedagogy has been published in the Journal of Dance Education and her dance science and somatics research has been presented at the International Association of Dance Medicine and Science (Australia), the National Dance Education Organization (NY, TX), Somatic Dance (NY), Maryland Dance Education Association, and Laban International (NY) conferences.
She has facilitated professional development workshops for the Maryland State Department of Education, Baltimore Museum of Art, Anne Arundel and Baltimore County Public Schools; participated in panel discussions for Center Stage and Greater Baltimore Cultural Alliance; and enjoyed being featured on smARTS, The Baltimore County Arts Show. She has taught dance, somatics, and composition workshops throughout the Maryland area and has danced professionally with The Moving Company, ClancyWorks, and DanceRink. In 2020, Martinell was honored to receive the Dance Educator of the Year, Teaching Artist, award from the Maryland Dance Education Association.
Martinell has been teaching at the collegial level for over 15 years. She is an Adjunct III faculty member at Towson University, facilitating dance technique, somatics, pedagogy, and composition courses. She has been on faculty at the University of North Texas, Community College of Baltimore County, Goucher College, and University of Maryland Baltimore County. Most importantly, she treasures the blessing of her 3 children.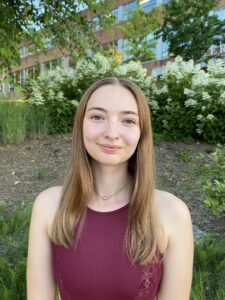 Lacee Buckholz from Jackson, New Jersey is currently attending Towson University for her BFA in Dance Performance and Choreography. She began in her local dance studio in 2004 learning the basics of Ballet, Tap, Jazz, Lyrical, Contemporary and Hip Hop styles. In high school she continued her dance education at Ocean County Vocational Technical School Performing Arts Academy in addition to her studio classes. She received consistent training in Ballet, Modern, Jazz and African, and was introduced to a myriad of styles Vernacular Jazz, Luigi Technique, Salsa, Merengue, Bachata, Afro-Caribbean, West African, Contemporary Ballet. She has performed with Classic Contemporary Ballet company Directed by Kimberly D. Landle for the 2018 Fringe Festival performing Metamorphosis: the magic within the chrysalis. Lacee is excited to be joining Deep Vision and looks forward to her debut in the company.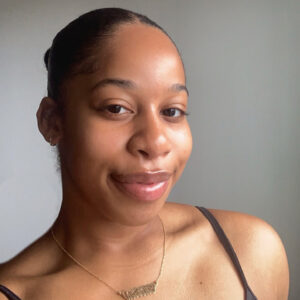 Chelsea Patten was born and raised in Brooklyn, New York. She began her dance training at the age of 5 at Mark Morris Dance Group followed by The Ailey School two years later. At The Ailey School Chelsea studied under the direction of Lisa Attles, Adrienne Hurd and choreographers Christian von Howard and Earl Mosley. She also had the privilege of learning repertoire from the first company and work with former company members Guillermo Asca and Shay Bland. Her additional training includes summer intensives at Joffrey Ballet and Hubbard Street Dance Chicago. Chelsea is a rising Junior at Towson University pursuing a BFA in Dance and Performance Choreography and a BA in Psychology. She is the recipient of the Ira. J. and Mary K. Basler Scholarship, she was selected to perform in Ballet Hispanico's residency, and is one of Towson's newest members of the National Honor Society for Dance Arts.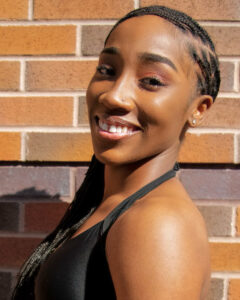 Sade' Morgan is an emerging artist from Prince George's County, Maryland where she began her dance training at Suitland High School CVPA. There, she received her "Outstanding Achievement in Dance Award", "Honorable Mention Award" and further dance education on full scholarship to MODAS Dance summer intensive in Albuquerque, NM. Sade currently attends Towson University studying Dance Performance and Choreography on a dance merit scholarship. Throughout her training, she has been given the opportunity to work with many various artists such as Dr. Elana Anderson, Kevin Iega Jeff, Charmaine Hunter, Ms. Lorraine Graves, Jennifer Archibald, Ronald K. Brown and many more. At Towson, Sade is the Student Representative for the dance majors class of 2023 and is a member of the National Honor Society Dance Association. She recently expanded her experiences working as a Dance teacher at Dimensions Dance Center located in Baltimore, MD teaching Hip Hop, Ballet, Tap, and Modern.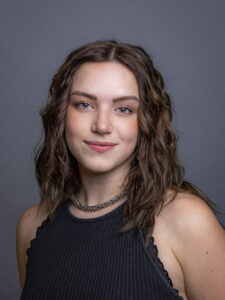 Natalia Smith is a dancer and student currently working toward a Bachelor of Fine Arts degree in Dance at Towson University. She began her training at Coupe Theatre Studio before shifting her focus to competitive dance at Anita Ehrler's Dance Extensions. Natalia received additional training at Gelsey Kirkland Academy of Classical Ballet and Central Pennsylvania Youth Ballet. She has had the opportunity to train in ballet, pointe, contemporary, modern, tap, hip-hop, and musical theater.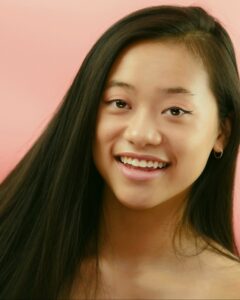 Baylee Wong is an aspiring artist from Carmel, New York. Currently a student at Towson University, she is pursuing a B.F.A in Dance with a K-12 dance education concentration. Baylee has received training at Pinewood School of Dance, Fred Astaire, Joffrey Summer Intensive, and AAB summer intensive. She learned various styles of dance including ballet, tap, jazz, modern, and ballroom. In 2019, she took 1st at the Tri-State Dancesport Championship in youth rhythm open gold, competing in the styles of cha cha, rumba, bolero, mambo, swing and samba.