Go Deep! Residencies (2014-2017)
Go Deep! are 1 to 5-day residencies at schools and community organizations. Students (youth, seniors, families) engage in interactive performances and movement classes centered on themes, such as women's suffrage and physics. Programs include The Traveling Feet of Ragtime and Learning Physics through Movement.
Learning Physics through Movement (2016-2017) is an arts integration outreach program for K-12 school children in the Baltimore area and beyond. Created by Artistic Director/Founder Nicole A. Martinell in collaboration with Towson University Physicist Dr. Svetlana Gladycheva, Learning Physics through Movement shares innovative ways to explore and grasp physics concepts through the breathtaking beauty of dance. Physics concepts, such as inertia, force, and equilibrium, are introduced to students through dance/movement classes, hands-on experiences, performance excerpts, choreographic workshops, and supplementary materials. Students discover that physics describes our everyday lives and find joy in the learning and creative process.
More info | TV Appearance | Video Highlights
Past Locations: Halstead Academy Elementary, Pleasant Plains Elementary, Patapsco High School & Center for the Arts, Jewish Community Center, West Towson Elementary School, Seton Keough High School, Immaculate Conception School, Towson University Community Dance (not necessary but an option for website)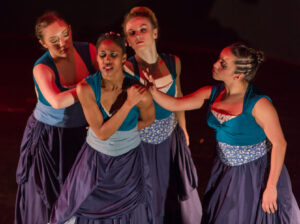 The Traveling Feet of Ragtime (2014-2015) celebrates women of the Ragtime Era (1890s to 1920s).  Used as a means for self-expression, Ragtime dancing became a catalyst for social change during the women's suffrage movement.  Women displayed acts of defiance by swinging, swaying, and performing Animal Dances, through the streets. Participants watch a performance of The Traveling Feet as well as participate in a workshop exploring the playful movements and music of the Ragtime Era. Dances include the "grizzly bear," "turkey trop," "crab," "bunny hop," and more!​​
​Past Locations: Patapsco High School and Center for the Arts, George Washington Carver Center for Arts and Technology, Immaculate Conception School, West Towson Elementary School, Seton Keough High School, Maryland Dance Alliance, St. Joseph's Nursing Home​​, Weinberg Village (not necessary but an option for website)